Kurnool Visalandhra Mahasabha
Dear Friends,
Visalandhra Mahasabha is conducting a media exhibition and workshop in Kurnool this Sunday, October the 7th, 2012. The format will be similar to the past events that our organization has conducted in Delhi, Hyderabad, Vijayawada, and Tirupati.
The event will be held in T.G.V. Kalakshetram in Kurnool. The exhibition is going to be inaugurated by Minister Sri T.G. Venkatesh. Prominent personalities from Kurnool Sri B. V. Reddy, Sri G. Pullaiah, Sri K.C. Kalkura, Dr. K. Madhaiah will speak at the event.
Visalandhra Mahasabha members C. Anjaneya Reddy, Parakala Prabhakar, Challagulla Narasimha Rao, Kumar Chowdhary Yadav, Chegondi Ramajogaiah, Padiri Raviteja, Sunkara Venkateswar Rao, Laxman Reddy and several others will also present their views.
It is very important that we continue to voice our views on integration. The just finished Telangana march and separatists efforts in Delhi are an indication that the fight is far from over.
Drive to Kurnool from Hyderabad is less than 3 hours and the road is excellent. I urge you all to participate in the event and make it a big success.
Nalamotu Chakravarthy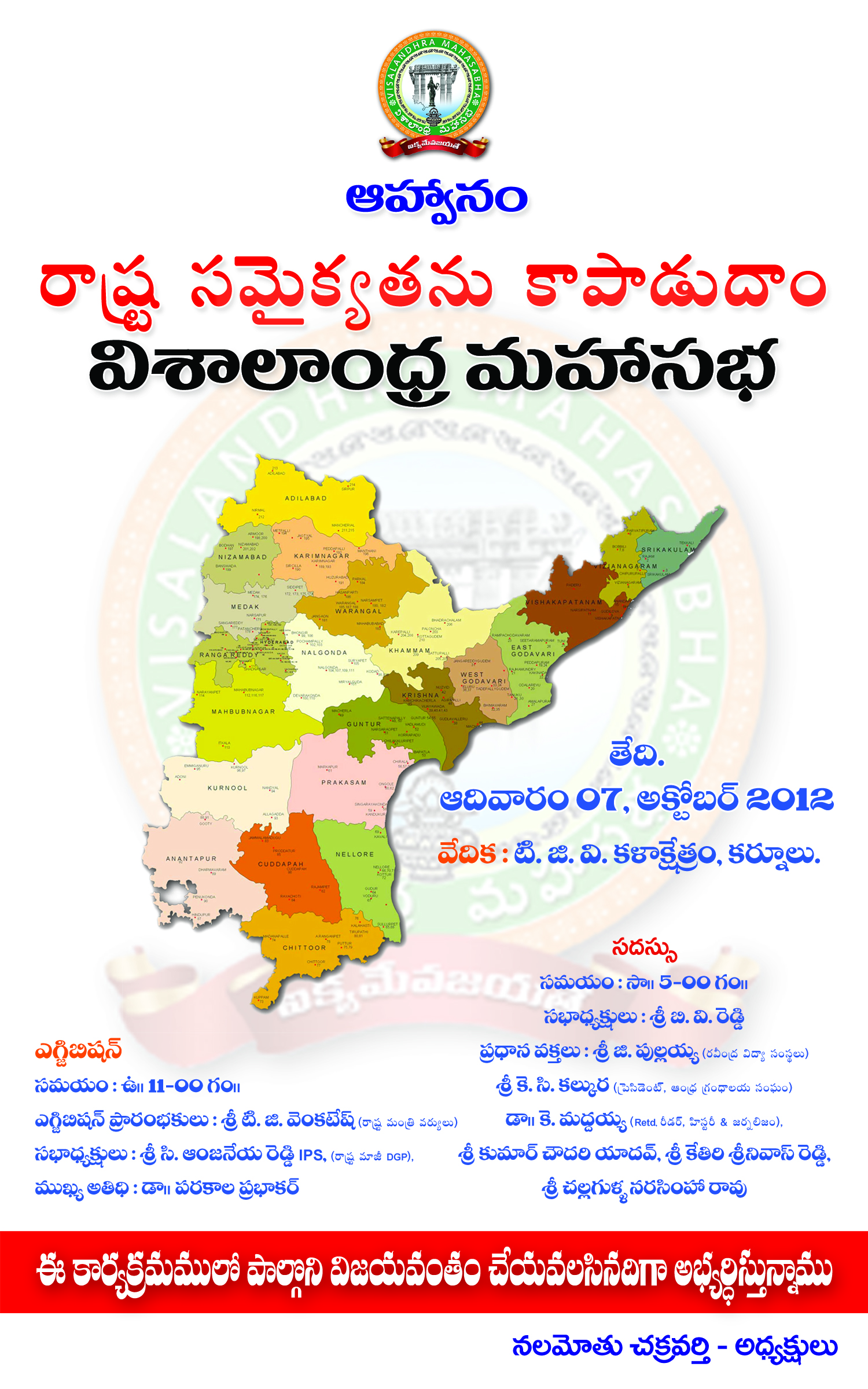 Tags: Andhra, kurnool, rayalaseema, t.g. venkatesh, Telangana, visalandhra
2 Responses to "Kurnool Visalandhra Mahasabha"